Tecumseh - Behind the Scenes Tour
Jun 7 (Fri) thru Sep 1 (Sun)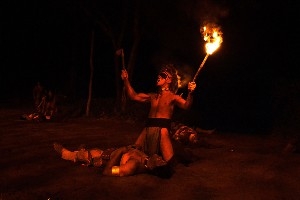 3:45 pm, 4:30 pm and 5:15 pm.
Tours are offered Monday-Saturday. Tickets are date specific, but food for any time on that date.
First implemented in 1978, these tours are still highly acclaimed by our patrons. Enjoy an exciting backstage tour of the theatre complex as cast members serve as your tour guides.
The stuntmen of Tecumseh give a dazzling display of stage-combat and flintlock firing and then pitch headfirst from a twenty-one foot cliff, get up, and explain how they did it. Tours last approximately one hour and along with detailed historical information also include demonstrations of weaponry, stunts, and makeup as well as explanations regarding communication systems and stage design.
Cost: $5.00 per person
Contact
5948 Marietta Road
Chillicothe, Ohio 45601
Phone: 866-775-0700
Interest Tags
Outdoor Activity, Family Oriented, Special Interest, Arts/Music/Film, Wildlife, Historical, Ongoing Events,
Nearby Activities and Attractions