Tecumseh
Jul 17 (Sat) thru Sep 5 (Sun)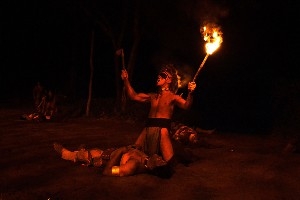 8:00 - 10:45 pm. Monday-Saturday.
Ticket Prices:
Weeknight Tickets:from $21
Weekend Tickets:from $25
VIP Package:from $40
Captivating. Fascinating. Mesmerizing.
Come witness the epic life story of the legendary Shawnee leader as he struggles to defend his sacred homelands in the Ohio country during the late 1700s.
The huge, outdoor stages of the Sugarloaf Mountain Amphitheater afford the audience the ability to see everything. You will sit beneath the stars as sheer spectacle surrounds you with a herd of galloping horses, live military cannon in action, and the most dazzling battle sequences offered on the American stage.
One 15 to 20 minute intermission.
Monday Night Special - Each Monday night, we offer a special discount to Ohio residents with a valid ID. Patrons can save $10 on an adult ticket by bringing at least two cans of food along with their ID to the box office beginning at 2:00 pm and purchasing tickets in person.
Tecumseh is not recommended for children ages 6 and younger due to some violent content and loud battle scenes. We are a Pet Free and Smoke Free facility.
Cost: $14-$43.00 per person
Contact
5948 Marietta Road
Chillicothe, Ohio 45601
Phone: 866-775-0700
Interest Tags
Outdoor Activity, Family Oriented, Special Interest, Arts/Music/Film, Wildlife, Historical, Ongoing Events,
Nearby Activities and Attractions