Winter Hike at Hocking Hills
Jan 16, 2021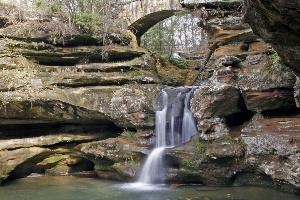 NOTICE**** ODNR will not be hosting the event this year, but you are welcome to hike the trail yourself.This year there will be no transportation provided, if you plan to hike please plan to walk back the 6 miles to your car. This will make it a 12 mile hike.
9:00 am - 11:00 am Continuous starts.
Join the Annual Hocking Hills Winter Hike 12-mile trek (6 miles to ash cave, 6 miles back to your car) to view the beauty of the hills and caves and waterfalls in winter. Start at Old Mans Cave on a hike to Ash Cave.
Hocking Hills State Park is located about 55 miles southeast of downtown Columbus on State Route 664 in Hocking County.
Cost: Free
Contact
20160 State Route 664 South
Logan, Ohio 43138
Phone: 740-685-6841
Interest Tags
Outdoor Activity, Family Oriented, Special Interest, Wildlife,
Nearby Activities and Attractions