4th Annual Mega Tube Float
Aug 20, Aug 21, Aug 22, 2021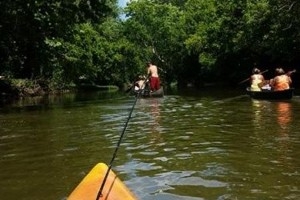 SPREAD THE WORD because THE 4th ANNUAL MEGA TUBE FLOAT on the HOCKING RIVER is coming back BIGGER and BETTER than EVER in 2021. Start preparing yourself for the most epic 3 days of FLOATIN' FUN IN THE SUN with the EXPERTS IN OUTDOOR FUN! Located at 1299 E Canal Street, Nelsonville, OH 45764
Grab your friends and family and head to our new headquarters located at Adventure Pro Outdoors to relax on our 3 mile lazy river float! The float lasts anywhere between 3 - 5 hours depending on the water levels and if you decide to stop at all. We have 250 tubes/ day for rent or you can bring your own.
RESERVATIONS ARE REQUIRED! Call 740-856-7848 or book online at https://adventureprooutdoors.com/hocking-hills-river-trips/
Tube rentals are sent out on a first come first serve basis. Primitive camping will be available. If camping doesn't suit you, check out 1st Choice Cabin Rentals located right in Nelsonville, Ohio!
Don't worry about filling up your tube because we will inflate on site!
Cost: 10
Contact
1299 E. Canal St.
Nelsonville, Ohio 43130
Phone: 7403857117
Interest Tags
Special Interest, Arts/Music/Film,
Nearby Activities and Attractions