Dinner on the Bridge and Tour of Rock Mill
Sep 9, 2018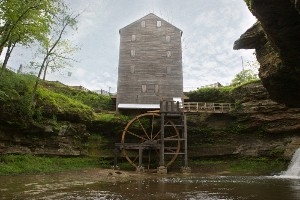 5:00 - 9:00 pm
Rock Mill Covered Bridge. Before dinner, guests will be given a private tour of Rock Mill, a restored 1824 grist mill. Guests will get to see the mill in action, grinding corn.
Food is served at 6:00 pm; catering is by Pacer's Italian Cuisine & Steakery from Pleasantville. Seating is limited and Reservations are Required.
This event is sponsored by Fairfield County Forever, a non-profit, membership-based friends group that supports Fairfield County Parks by advocacy, activities, and fundraising. This is one of the fundraising events (half of the ticket price is a tax-deductible donation.) Proceeds to benefits the parks.
Fairfield County Forever, Carolyn Tilley at 740-654-8363 or email ctilley5455@att.net for Reservations.
All questions about the event, reservations, cost, etc., must be directed to Fairfield County Forever. However, questions about the venue, Stebelton Park at Rock Mill, Rock Mill Covered Bridge, and Rock Mill may be directed to Fairfield County Parks.
On the day of the event, one of the Fairfield County Forever members will be acting maitre d. As guests arrive, their names will be checked against the event list.
Cost: $30/person, Reservations Req
Contact
1429 Rock Mill Place NW
Lancaster, Ohio 43138
Phone: 740-654-8363
Interest Tags
Outdoor Activity, Family Oriented, Special Interest,
Additional Events