Harvest Heritage Celebration
Sep 22, Sep 23, 2018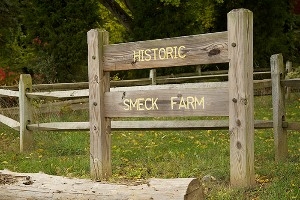 12:00 - 4:00 pm Saturday and Sunday
Celebrate our Fairfield County heritage. Featuring Fairfield County Antique Tractor Club. Watch as early farm machinery is used to bring in the harvest (weather permitting).
There will be activities, demonstrations and displays, food concessions.
What you can expect to find at the Harvest Celebration this weekend. In 2017, those taking part in the celebration were:
Fairfield County Antique Tractor Club - antique tractors, corn shucking, Indian corn, demonstrations and harvesting activities. Jeff Gawell, Blacksmith - explain and demonstrate the art of smithing. Fairfield County Forever - hands-on fun for children of all ages. Volunteers will show children how to make clothespin dolls and play with the old-fashioned toys on display. They will also have for sale Rock Mill aprons and other mill-related items. Mark Johnson, Woodworker - rolling pins, handmade wood items. Bluestem Farm & Apiary, Greg Pifer - local honey, beekeeping. Fast Draw, Gerald Alsley - caricatures, drawings of people and pets. Velma Smith - Viking mesh jewelry. Trishs Treasures - handmade jewelry, gemstone, sterling silver, vintage and recycled pieces. Moonspun Meadows, Donnely Barber - fibers, spinning and weaving demonstrations. Antique Street Craft Company - rustic, primitive crafts, farm finds and home decor. Fairfield County Genealogical Society - ancestry research and heritage information. Christine Gallagher - natural snacks, granola. Lions Club - food truck.
SPONSORED BY FAIRFIELD COUNTY FOREVER. This event is sponsored by Fairfield County Forever, a non-profit, membership-based friends group that supports Fairfield County Parks by advocacy, activities, and fundraising. This is one of their fundraising events; proceeds to benefits the parks.
VENDORS & EXHIBITORS. Vendors and exhibitors interested in setting up at this event should contact Carolyn Tilley of Fairfield County Forever at (740) 654-8363 or send an email to ctilley5455@att.net.
Please plan to come early or stay late so you can also enjoy the late-1800s Windmill, take a walk on the trail, play on the (modern) playground equipment. Although there will be a food truck(s) at this event, you are welcome to bring food for a picnic; there are charcoal grills and picnic tables throughout the park.
Cost: Free Event
Contact
7395 Basil Road NW
Baltimore, Ohio 43105
Phone: 740-681-7249
Interest Tags
Outdoor Activity, Family Oriented, Special Interest, Wildlife,