And Then There Were None
Sep 14, Sep 15, Sep 16, 2018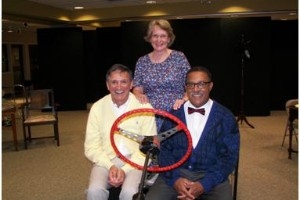 7:00 pm on Fri/Sat
2:00 pm on Sun
And Then There Were None
By Agatha Christie
Directed by Dan Steele
On a hot August day in the late 1930s, eight people arrive on a small, isolated island off the Devon coast of England. Each has an invitation tailored to his or her personal circumstances, such as an offer of employment or an unexpected late summer holiday. They are met by Thomas and Ethel Rogers, the butler and cook-housekeeper, who state that their hosts, Mr Ulick Norman Owen and his wife Mrs Una Nancy Owen, whom they have not yet met in person, have not arrived, but left instructions, which strikes all the guests as odd.
A framed copy of a nursery rhyme, called -Ten Little Indians- or -Ten Little Soldiers-, hangs in every guests room, and ten figurines sit on the dining room table. After supper, a gramophone record is played; the recording describes each visitor in turn, accuses each of having committed murder but escaping justice, and then asks if any of -the accused- wishes to offer a defense. All but Anthony Marston and Philip Lombard deny the charges, and Miss Brent refuses to discuss the matter.
They discover that none of them actually knows the Owens and conclude that the name -U.N. Owen- is shorthand for -Unknown-. After the recording, Marston finishes his drink and immediately dies from cyanide poisoning. The remaining guests notice that one of the ten figurines is now broken, and the nursery rhyme appears to reflect the manner of death (-One choked his little self and then there were nine-). And so it begins.
Suitable for adults and teenagers. And Then There Were None is presented by special arrangement with Samuel French, Inc.
Cost: Free Event
Contact
219 North Broad Street
Lancaster, Ohio 43130
Phone: 740-243-1579
Interest Tags
Special Interest, Arts/Music/Film,
Additional Events
Nearby Activities and Attractions