Waxahatchee with Night Shop and Anna St. Louis
Sep 13, 2018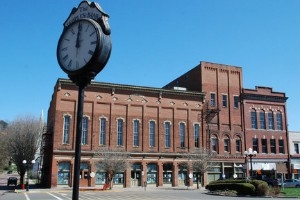 8:00 pm
Floor Seats: $21/advance $26/door
Balcony Seats: $18/advance $23/door
Box Seats: $26/advance $31/door
Stuarts Opera House is excited to welcome an evening of music from three amazing acts. Out in the Storm, Katie Crutchfields fourth album as Waxahatchee and her second release with Merge, is the blazing result of a woman reawakened.
NIGHT SHOP
Night Shop is the new solo project from Justin Sullivan, drummer for such people and bands as: Kevin Morby, The Babies, and Flat Worms. They are preceded by many more, as he has toured in bands for the past 18 years. His debut e.p. was recorded at Compny Studios in Los Angeles, engineered by Drew Fisher (Kevin Morby, The Babies, Girl Pool) and is comprised of world weary, melancholy songs with trace elements of optimism. He was joined in the recording effort by Will Ivy, on electric guitar, and Tim Hellman (Thee Oh Sees) on bass.
ANNA ST. LOUIS
Despite her last name, Anna St. Louis was born and raised in Kansas City. She grew up a painter and singing in punk bands, eventually leaving her hometown to attend art school in Philadelphia. After graduating she made the move to Los Angeles where she began teaching herself guitar, writing songs and recording them on her own in her bedroom. First Songs is the sound of someone discovering their talent in real time a?" a peak into the collage of a wonderful mind that is absorbing their new surroundings and using new tools to put them into the room. Listening to this collection you can feel the sun coming in through the window a?" Anna on the foot of the bed with a guitar on her knee, finding her voice. St. Louis wears her influences well a?" think Patsy Cline singing over John Fahey a?" but has a style all her own. And while you can take the artist out of the midwest, you cant take the midwest out of the artist a?" so let this be known; this is Midwestern music ran through a California filter.
Cost: $18-31 per person
Contact
52 Public Square
Nelsonville, Ohio 45764
Phone: 740-753-1924
Interest Tags
Special Interest, Arts/Music/Film,
Additional Events
Nearby Activities and Attractions