October Weekday Fall Foliage
Oct 6 (Fri) thru Oct 27 (Fri)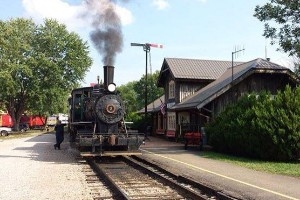 1:00 pm Fridays in October.
Due to the incredible popularity of the fall colors of scenic southern Ohio, we operate extra trains on Fridays only in October. These trains are no different than the Noon and 2:30 trains on Saturdays and Sundays, other than an extra option for your trip.
Each Friday between October 5th and 27th, one train each day departs the Nelsonville Depot at 1:00 p.m. for a round-trip ride to East Logan.
The coaches are heated as weather requires, but we also have both of our open-air cars on the train as well. These trains provide a unique way to experience the fall colors throughout the month of October.
Duration of ride: Approximately two hours
Cost: $12-17 per person
Contact
33 W. Canal Street
Nelsonville, Ohio 45764
Phone: 740-249-1452
Interest Tags
Family Oriented, Special Interest, Historical,
Additional Events
Nearby Activities and Attractions