Al Petteway / Ramblin Jack Elliott Fur Peace Ranch
Oct 27, 2018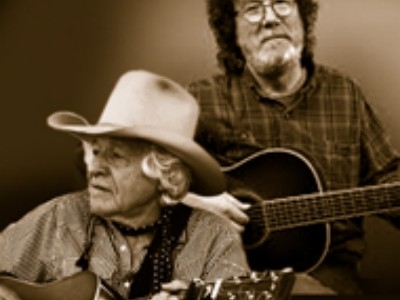 Gates open 7:00 pm, Show 8:00 pm.
Al Petteway is a Grammy and Indie Award Winner, best known for his lyrical and powerful finger-style acoustic guitar playing heard on dozens of recordings, instructional videos, and film soundtracks, including several PBS documentaries by Ken Burns, most notably the Emmy-winning film -The National Parks-Americas Best Idea.- Al s compositions are strongly influenced by the Celtic, Folk, Rock and Blues styles. Ramblin Jack is a true American legend whose career parallels the growth of the American folk music boom from the early 1950s, when he first -rambled- around the country with Woody Guthrie. He was a major influence on a young Bob Dylan in New Yorks Greenwich Village, along with everyone he has ever befriended in almost 70 years, including Jack Nicholson, Robert Duvall, Janis Joplin, Willie Nelson, Johnny Cash, Kris Kristofferson, Jack Kerouac, Mick Jagger - and just about everyone who ever picked up a folk guitar.
All tickets are held at will call. We do not mail tickets.
Cost: $35/40 per person
Contact
39495 Saint Clair Road
Pomeroy, Ohio 45769
Phone: 740-992-6228
Interest Tags
Arts/Music/Film,