Horse-Drawn Canal Boat Rides
May 26 (Fri) thru Sep 4 (Mon)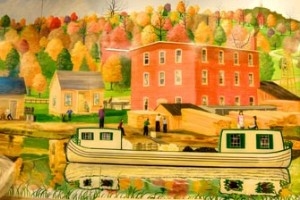 1:00 pm, 2:00 pm, 3:00 pm Tuesdays - Fridays
1:00 pm, 2:00 pm, 3:00 pm, 4:00 pm Saturdays and Sundays
Closed all Mondays. Closed September 17, 18, 26, 27, 28, 29, 30, October 1, 2, 3, 4, 5, 6, and 7.
Boat departs on the hour. Weekends only in September and October.
October 21, 22, 23 at 1:00pm, 2:00pm, 3:00pm, 4:00pm.
A serene 45 minute ride down a restored section of the Ohio-Erie Canal, pulled by a strong team of draft horses. Once aboard the Monticello III you feel as if you were gliding right into Ohio history.
Watch the hoggee (The person who led and cared for the animals that pulled the canal boat was called the Hoggee. It is derived from the English word hogler, meaning low class field worker.) lead the huge team of draft horses as they pull the canal boat gently along its way. The captain will describe 1800s life on the canal, close your eyes you will believe you are there.
$6. - for students
$7. - for seniors
$8. - for adults
The canal boat is located at 23253 State route 83 North, Coshocton, OH 43812. You may drive to the canal boat landing or choose to walk the two path from the Roscoe Village Visitor Center.
Cost: $6-8.00 per person
Contact
The Roscoe Village Foundation
Coshocton, Ohio 43812
Phone: 740-622-7644
Interest Tags
Special Interest, Arts/Music/Film, Historical,
Additional Events
Nearby Activities and Attractions