Ohio Statehood Day Open Houses - Historical Societ
Mar 4, 2017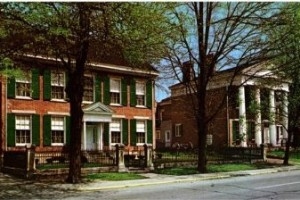 12:00 - 4:00 pm.
Five of Chillicothes historical organizations will host open houses in commemoration of Ohio Statehood Day--the annual observation of the founding of the State of Ohio which took place on March 1, 1803. Among the featured highlights will be special exhibits and programs on Ohios founding and first capital Chillicothe, the 100th Anniversary of Camp Sherman and the U.S. entry into World War I, and many other aspects of local, state and U.S. history.
The Ross County Historical Society Heritage Center will feature the grand opening of a new exhibit of World War I uniforms and equipment once belonging to local soldiers and soldiers from military units trained at Chillicothes Camp Sherman.
There will also be a special one-day exhibit of rare Ohio statehood documents from the historical societys archives and an extensive display of early American firearms from private collections. In addition, the event will offer an opportunity to see the magnificent marble statue of Ohios 31st Governor, William Allen, recently acquired from National Statuary Hall in the U.S. Capitol. All other regular museum exhibits will also be open.
The Silver Strings dulcimer ensemble will perform traditional music throughout the afternoon.
Cost: Free Event, Donations Accepted
Contact
45 W 5th Street
Chillicothe, Ohio 45601
Phone: 740-772-1936
Interest Tags
Family Oriented, Special Interest, Arts/Music/Film,
Nearby Activities and Attractions