Rock Dog at Twin City
Mar 24, Mar 25, Mar 26, Mar 27, 2017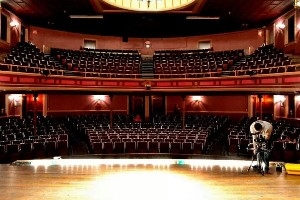 7:00 pm Fri, Mon
2:30 pm Sun
Animated. For the Tibetan Mastiffs living on Snow Mountain, a dogs life has a simple riff: Guard a peaceful village of wool-making sheep from the thuggish wolf Linnux (Lewis Black) and his rabid pack. To avoid distractions, Mastiff leader Khampa (J.K. Simmons) forbids all music from the mountain. but when Khampas son Bodi (Luke Wilson) discovers a radio dropped by a passing airplane, it takes just a few guitar licks for his fate to be sealed: Bodi wants to be a rock n' roll star. Yet that means defying his fathers wishes, heading to the city, and locating thelegendary and reclusive musician Angus Scatterfood (Eddie Izzard), who needs to write a new song and fast.
If Bodi can put a band together, help Angus with his song, and defeat the wolves plot to take Snow Mountain, his life will be in turn. Bodi will become what he has always dreamed of being: More than a dog... more than a rock god... he will be a ROCK DOG.
Summit Premiere presents, a Huayi Brothers Media Corp. and Mandoo Pictures production, in association with Huayi Tencent Entertainment Company, Eracme Entertainment, and Dream Factory Group.
Rated PG-13
1 hr. and 20 minutes.
Cost: $4.00 per person
Contact
15 W Main Street
McConnelsville, Ohio 43756
Phone: 740-962-3030
Interest Tags
Arts/Music/Film,
Additional Events