Tal National
Mar 15, 2018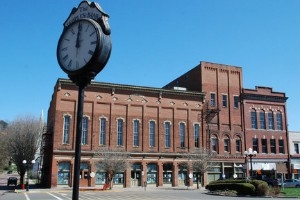 7:30 pm
Suggested donation of $5-$20, pay what you can, no one will be turned away.
Presented with support from Ohio University Performing Arts and Concert Series, Ohio University African Studies, and Ohio Universitys Black Student Cultural Programming Board and Multicultural Center and Programs.
--By the time Tal National reached international acclaim with 2013s -Kaani-, the bands first release outside of Niger, they had spent more than a decade crisscrossing their native country, usually on dirt pathways through the Sahara, playing epic five-hour sets, seven days a week, selling their CDs on street corners and roundabouts. In the process, they became Nigers most popular band, with songs constantly blasted on national TV and cell phones everywhere. Following FatCats release of -Kaani-, Western audiences and critics quickly embraced the bands singular and finely-honed sound. NPR were hit by -the bands tightness and fiery energy-; The Guardian praised -their full-tilt approach, and hypnotic intensity-; whilst Songlines wrote of -a rich, hybrid sound that draws on familiar West African elements to create something rewardingly fresh and different-. FatCat released the dazzling follow-up, -Zoy Zoy-, on April 13th 2015, once again to great critical acclaim, with shouts from Pitchfork, Uncut, Afropop Worldwide, FADER, The Quietus and a cover feature on fRoots. With each heaping of praise, they all seemed to echo NPRs assessment that --There is no way you wont dance to this one--.--
The successes of On The Ropes-2016 and Me Oh My-2015 have propelled Amanda Anne Platt and The Honeycutters onto the national scene and they have been featured on NPRs World Cafes Sense of Place, NPRs Mountain Stage, Nashvilles Music City Roots, and Folk Alley and they have performed at AmericanaFest, MerleFest, and IBMA. On The Ropes debuted at #39 on iTunes Top 40 Country Chart on release day and landed on a plethora of year end lists including placing #35 on the Top 100 Albums played on Americana Radio in 2016 and landing at #1 on Western North Carolinas WNCW Radios Year End Listeners Poll of Top Albums of 2016.
Cost: Free, Donations Encouraged
Contact
52 Public Square
Nelsonville, Ohio 45764
Phone: 740-753-1924
Interest Tags
Special Interest, Arts/Music/Film,
Additional Events
Nearby Activities and Attractions