Annual Wheelin Sportsmen Fishing Event
Apr 20, 2017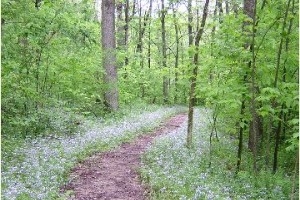 10:30 am - 2:00 pm.
In partnership with the National Wild Turkey Federation, the Wayne National Forest will host the 14th annual Wheelin Sportsmen Fishing Event on Lake Vesuvius. With help from the Ohio Department of Natural Resources - Division of Wildlife, thousands of rainbow trout will be released on event day to help increase anglers success.
The Wheelin Sportsmen outreach program intends to provide physically challenged individuals opportunities to participate in outdoor activities such as fishing, hunting, bird watching and others. Accordingly, the fishing event is planned for those restricted by age or abilities. The quarter mile Lake Vesuvius boardwalk stretches along the shoreline and allows for improved accessibility by persons with wide ranging abilities. that feature makes the lake an ideal site for hosting the event.
For those unfamiliar with southern Ohio, Lake Vesuvius can be found seven miles north of Ironton, off State Route 93, approximately one mile east on Lawrence County Road 29 (Paddle Creek Road). The boat ramp parking lot will be utilized for mobility impaired arrivals and parking at the dock is reserved for those individuals, allowing for easier loading and unloading of wheelchairs and scooters. For safety reasons, there will be no boat trailer access during the event.
People interested in attending the event may pre-register by contacting the Ironton Ranger District. Number listed.
Cost: Free Event
Contact
13700 U.S. Highway 33
Nelsonville, Ohio 45764
Phone: 740-534-6500
Interest Tags
Outdoor Activity, Family Oriented, Special Interest,
Nearby Activities and Attractions