Grinding Demonstration at Rock Mill
Oct 28, 2018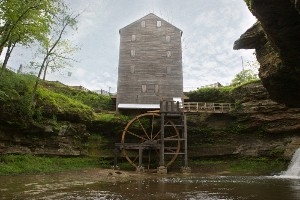 1:00 - 3:00 pm
Demonstrations will be held only on the following dates, the last Sunday of the month, from 1:00-3:00 p.m. during Rock Mill Weekend events.
October 28.
Note: The dates of demonstrations are subject to change based on weather conditions that effect the Hocking River. There needs to be enough water flowing to operate the mill. Before traveling long distances to view the mill in action, you should call 740-681-7249.
Rock Mill is an 1824 grist mill that stands 90 feet above the gorge of Hocking River Falls. It was one of a dozen mills in the area powered by the Hocking River. The mill was in operation until about 1905. It then sat, quiet, and fell into disrepair. It was restored to working order in 2017 when it roared to life and milled grain again for the first time in over 100 years.
Also on site is the iconic Rock Mill Covered Bridge, constructed in 1901. It may be the smallest bridge in the county but it is the most well-known. Be sure to bring your camera.
Gift Shop - Specialty mill-themed items are available in the gift shop, note cards with five scenes of the mill and area, mugs, aprons, prints for framing, more.
Free, Family-Friendly Event - This event is run by volunteers who support Fairfield County Parks. Without them, Rock Mill Weekends would not be possible.
Parking - Parking next to the mill is limited. If possible, please leave those spaces for the elderly or infirm. There is a new parking lot to the right just before arriving at the park. It is about 400 feet from the mill and there is a downhill slope so be sure to wear comfortable walking shoes. Those with special needs can be dropped off at the bridge near the mill.
Cost: Free Event
Contact
1429 Rock Mill Place NW
Lancaster, Ohio 43138
Phone: 740-681-7249
Interest Tags
Outdoor Activity, Family Oriented, Special Interest,