Amy Ray
Nov 13, 2018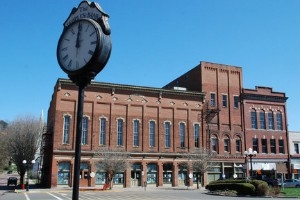 7:00 pm
Box: $27/advance $32/door
Floor: $22/advance $27/door
Amy Ray teamed up with Emily Saliers while in high school, and soon the duo became a staple in the Atlanta music scene. In 1981, their independent music career began with a basement recording called Tuesdays Children. One thing led to another, and they signed with Epic Records in 1988. Despite almost polar-opposite styles, they met on the common ground of harmony and the love of meaningful music. Ray brought fire and earth, Saliers the wind and water. The alchemy proved magical, and their brand of folk-rock hit at just the right time alongside the successes of Tracy Chapman, Suzanne Vega, and 10,000 Maniacs.
Inspired by the music of the Southern punk/indie rock scene, Ray embarked on a solo adventure in 2000. Traveling around the Southeast with guitar and amp in tow, she wrote, rehearsed, and recorded Stag, teaming up with The Butchies, The RockATeens, Danielle Howle, and 1945, with a quick stop in NYC to play with Joan Jett, Kate Schellenbach, and Josephine Wiggs. Stag hit the streets in March 2001, and changed her trajectory from that point on. The depths and intensity of her artistry and emotions are revealed in awe-inspiring punk performances on its ten songs, giving Ray a forum to more fully express her political stances and questions of self. Stag was followed by the similarly themed Prom in 2005. Ray issued Live from Knoxville in 2007. Following several well-received Indigo Girls albums, she released the introspective solo offering Didnt It Feel Kinder in 2008, MVP Live in 2010, and Lung of Love in early 2012 a?" all on Daemon. The latter contained guest vocal spots from Brandi Carlile and My Morning Jackets Jim James. In early 2014, Ray released Goodnight Tender, her first country album. Guests on the set of tunes include Bon Ivers Justin Vernon, and Susan Tedeschi. Her current release is a live record from a 2014 show at Seattles Triple Door theater, a riff on Goodnight Tender, The Tender Hour covers songs from her country record plus her earlier releases with her stellar and versatile band.
Amy Ray and her bands new country album, Holler will be released on September 28, 2018. It was recorded live to tape at her mainstay Echo Mountain Studio in Asheville, NC, with the added power and swagger of horns and strings that harken back to the country music of the late 60s. Holler features special guests: Alison Brown on banjo, Kofi Burbridge on keys, Derek Trucks on guitar; Vince Gill, Brandi Carlile, The Wood Brothers, Justin Vernon, Lucy Wainwright Roche and Phil Cook on harmonies. Amy and her band will be hitting the road throughout the Fall of 2018 and beyond.
Amythyst Kiah opens the show. A professed Southern Gothic songster based in Johnson City, TN, Amythyst Kiahs commanding stage presence is only matched by her raw and powerful vocalsa?"a deeply moving, hypnotic sound that stirs echoes of a distant and restless past. A graduate of East Tennessee State University, she studied old time music and music performance, and it proved to be a pivotal moment in her life as she transformed from a long-time closet musician into a well-rounded, captivating performer.
Cost: $22-$32 per person
Contact
52 Public Square
Nelsonville, Ohio 45764
Phone: 740-753-1924
Interest Tags
Special Interest, Arts/Music/Film,
Additional Events
Nearby Activities and Attractions