The Fate of the Furious at Skyview Drive-In
Apr 14, Apr 15, Apr 16, 2017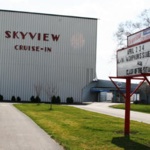 7:00 pm ticket office opens.
8:30 pm approximately movies start.
(Fast and Furious 8). Action/Adventure (PG-13)
Now that Dom (Vin Diesel) and Letty (Michelle Rodriguez) are on their honeymoon, Brian and Mia have retired from the game, and the rest of the crew has been exonerated, the globetrotting team has found a semblance of a normal life. But when a mysterious woman seduces Dom back into a world of crime that he can not seem to escape, the crew will face trials that will test them as never before.
Also -
Split
Mystery/Suspense (PG-13)
Though Kevin (James McAvoy) has evidenced 23 personalities to his trusted psychiatrist, Dr. Fletcher (Betty Buckley), there remains one still submerged who is set to materialize and dominate all of the others. Compelled to abduct three teenage girls led by the willful, observant Casey, Kevin reaches a war for survival among all of those contained within him -- as well as everyone around him -- as the walls between his compartments shatter.
Cost: $4-8 per person
Contact
2420 E. Main Street
Lancaster, Ohio 43130
Phone: 740-653-5517
Additional Events
Nearby Activities and Attractions